Relationship with Isuzu and UD Trucks
on November 19, 2020
in Informasi
Comments off
Isuzu and UD Trucks are two of the famous brands for Japanese truck; Isuzu has second, and UD Trucks has forth share in the market.
These two companies seem to be different companies, but they are connected on the back.
Actually, UD Trucks has become the affiliated company with Isuzu group since December 2019 as Isuzu group has made a business strategic partnership with Volvo group. (Volvo has acquired UD trucks in 2006, so Isuzu group can be affiliated UD Trucks.)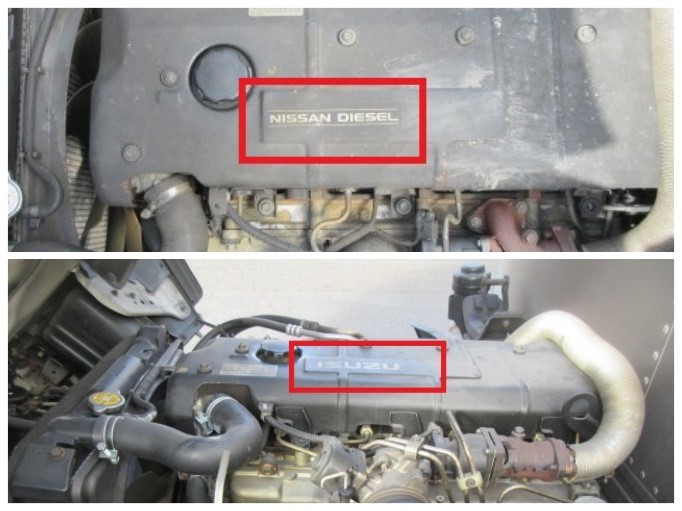 While group connections are changed, did you know Isuzu is the original equipment manufacturer (OEM) of UD Trucks?
Isuzu is manufacturing Condor as OEM products, and UD Trucks are selling them with UD brand.
If you see the model number of Condor, you will find it is very similar to the one of Isuzu Elf.
For example, If Condor is BKR66, and original vehicle of Isuzu is NKR66. Just the first letter is different.
Do you know whether Condor and Isuzu Elf have any differences?
Let's compare two vehicle models!
1) Model Number
As we talked above, model number is slightly different.
(Example)
UD BKR66 → ISUZU NKR66
UD BPR71 → ISUZU NPR71
2) Engine Model
Engine model number descriptions are same between UD and Isuzu.
UD BKR66/4HF1 → IZUZU NKR66/4HF1
UD BPR71/4HG1 → ISUZU NPR71/4HG1
3) Engine Specification
The engine displacement is the same between ISUZU and UD.
(example) 4HF1 4,330 cc / 4HG1 4,570 cc
How is the performance of the engine?
NKR66E(4HF1)→ Horse Power: 123ps (90kW)/3100rpm    Torque: 30kg・m (294N・m)/1500rpm
BKR66E(4HF1)→ Horse Power: 110ps (81kW/3100rpm  Torque: 28kg・m (275.0N・m)/1500rpm
It has very few differences on horse power, but specification is almost same.
Source reference : typestrucks.com
4) Engine Cover Name Tag
Engine model and specification are almost same, but just the brand name tag on the cylinder head covers are different.
5)Size
BKR66E (Full Flat Low)
L 4,680 x W 1,690 x H 1,960 (mm)
NKR66E (Full Flat Low)
L 4,680 x W 1,690 x H 1,960 (mm)
6)Appearance
How is the appearance? If both units have no brand logo mark, can you distinguish below two units?
Actually, we cannot tell which unit is Isuzu and which is UD Trucks.
2000 Isuzu ELF KK-NKR66EA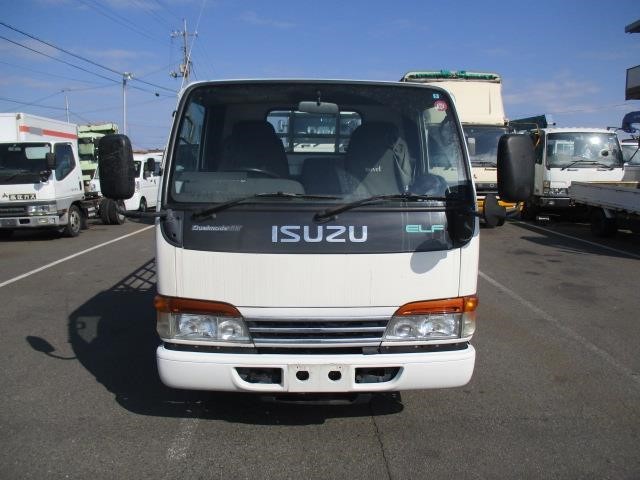 2000 UD Trucks (NISSAN DIESEL) Condor KK-BKR66EA
We are discussing about OEM units between Isuzu and UD trucks, but there are also OEM units affiliated with other vehicle makers.
Here are some examples of OEM units;
FUSO Canter  → UD Trucks Kazet
NISSAN Atlas → UD Trucks Condor / ISUZU Elf
HINO Dutro → TOYOTA Dyna / TOYOTA Toyoace
ISUZU Elf → NISSAN Atlas
There are many OEM vehicles other than above units.
OEM units tend to be set the prices cheaper than the original brand's ones.
So if you are seeking the units with only brand names, why don't you broaden your choice to OEM units as spec is almost same?
If you are worried about finding spare parts in your country, we can help you to find and arrange a shipment only for our suppling vehicles!